Make photo collages on Mac OS X for free
CollageIt for Mac is an easy-to-use photo collage maker for Mac OS X, which helps you make photo collages automatically. It supports 4 collage styles including Mosaic, Grid, Center and Pile. With 30+ collage templates, you can turn any ordinary set of photos into impressive collages in a matter of seconds.
Download CollageIt for free now; share your photos with friends and family in a unique way.
Key Features
Automatic, Easy to Use and Powerful Collage Software
Only three steps you can create photo collage on Mac automatically. It is easy enough for users of all experienced levels.
WYSIWYG—Real-time preview with high speed.
Large photo capacity allows you to create collages using a handful of photos up to 200.
Diverse types of photo collage layout can be created and collage size such as A1 or even larger can be reached.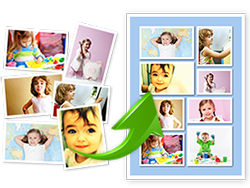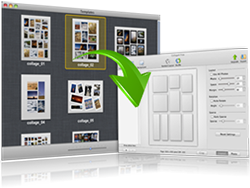 Various Collage Templates to Choose
4 collage styles: Mosaic, Grid, Center and Pile.
Includes 30+ collage templates in total.
The templates cover almost all kinds of collage styles, letting the users select a style and add their photos.
Customize Photo Collages Freely
Change the page size and collage background at will.
The collage layout parameters like photo count, photo space, page margin, rotation and sparse can be set freely.
Photo border and shadow added for decoration.
Cropping photo is available so that the unwanted clutter of the photo can be moved as you wish.
Various collage layouts can be continuously generated by using the Random Layout function.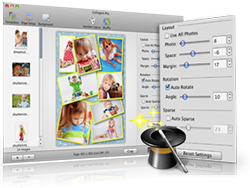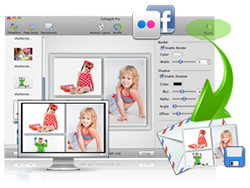 Share the Collage Anywhere
Save the collages as JPEG, PNG, PDF, PSD and other images formats or print it out.
Send it to family members and friends via Email.
Easily set your photo collage as your desktop wallpaper.
Reviews & Awards

CollageIt is an easy to use photo collage creator that users of all experience levels can use to create photo collages with.
- ghacks.net

We think this program is a great tool for quickly creating collages for art projects, presentations, and much more.
- CNet

CollageIt puts at your disposal an easy way to create picture collages of all sizes. Working with it is a no-brainer.
- softpedia

A really nice photo collage software that works as a charm. Fast and easy to use; cool looking output; it's free.
- soft32